Virtual tours of grounds:
For some venues, such as Arsenal's Emirates Stadium, when you buy a ticket, you can see the view from your seat. This lets you prepare for what you will see when they arrive, reducing stress and anxiety. West Bromwich Albion provide a video showing the route through the ground to their sensory room. 
Enhancing security and safety:
Many sports stadiums are using technology, such as facial recognition, HD surveillance and trackable ticket transfers to enhance security and monitor the movement of fans at their facilities. This technology can be used to identify potential threats and prevent incidents, as well as to streamline the entry process for fans. This means quicker identification and dispersion of potentially troublesome crowds, groups and incidents – which means less chance of heightened stress and anxiety when navigating the matchday. 
Improving the fan experience:
Many stadiums now offer mobile apps that provide fans with real-time information on the game, including live scores, player stats, and in-game highlights. These apps can also provide fans with access to exclusive content and offers, such as discounted food and merchandise. Freddie gets a lot of comfort from the apps as he's able to prepare and familiarise himself with how it works before we arrive, and self-serve information throughout. Lessening the need to explain himself and ask lots of questions in a high sensory environment which is great. 
Many stadiums are moving to a total no-contact stadium experience, meaning you can use your phone for everything from parking, tickets, stadium access, purchases – all of which lessens the sensory overload.
Viewing screens, both in the stadium and now on your own device, provide a great additional support, for example visual representation to support verbal announcements – e.g. photos matching names to faces, converting speech to text. The Fifa World Cup app is a great example of the innovation that's happening in this space.
Out of stadium experience:
Sports organisations are also using technology to enhance the experience for fans outside of the stadium – both pre and post match, and for those who can't' be there in person. For example, some stadiums are using augmented reality (AR) and virtual reality (VR) technology to provide fans with immersive experiences, such as virtual tours of the stadium or 360-degree replays of key moments in the game from home.
These give lots of people an opportunity to experience what it's like to be there in a safe space. This allows many people with additional support needs, who otherwise wouldn't be able to experience this, a great introduction to being able to do it in person.
Another great use I've witnessed is interactive games in fan zones, using tech such as Piing, provides a fun and enjoyable interaction point that helped us feel connected to the other fans and involved in the matchday experience in a safe space. Both myself and Freddie loved it!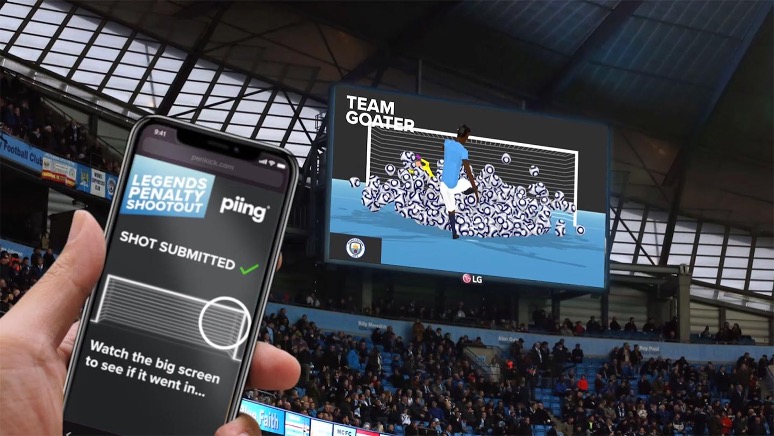 Streamlining operations:
Technology is also being used to streamline operations at sports stadiums. For example, many stadiums are using RFID and NFC technology to track the movement of fans and staff members within the stadium, which can help with crowd management and security. Additionally, stadiums are using technology to automate and optimise various processes, such as ticketing and food and beverage service, which can improve the efficiency and speed of these operations.
For me, having the ability to pre-order half time refreshments, and not miss 10mins of the game, is a godsend. We saw this in action at AFC Wimbledon when we visited last season and it's a brilliant innovation.  
Overall, sports stadiums are using technology in various ways to improve the matchday experience for fans, from enhancing security and safety to improving the fan experience and streamlining operations.  
The big challenge I've experienced is with connectivity, in particular in and around the larger stadiums, which has caused some of the third-party apps to stall, as well as making communicating with friends and family at events difficult. Dave Lubach, articulates this better and provides some suggestions for improvements in this article.
But overall it's great to see the improvements and investment being made by clubs to improve inclusivity and experience for fans – I truly believe that these changes will allow proactive clubs to increase their audience, improve inclusivity and ensure that all attendees have a happy and enjoyable experience….well, as much as possible when you consider I support Cambridge United!